Description
2:00 PM check-in and noon check-out
Do you intend to make hotel reservations in Lahore? Four top-notch restaurants at the renowned leisure resort The Indigo Hotel provide outstanding dining experiences. Take advantage of one of our tempting hotel standard room packages. Time has never been better to check out our cutting-edge facilities. The ideal spot to stay in Lahore is at the Indigo Hotel since we always have the greatest rooms available.
So here are the standard room  available every time
Whether you are staying with us for work or pleasure, our cozy executive standard rooms are made to make you feel at ease. You deserve to be calmed down after a long day at work or a strenuous shopping trip. Stay connected with wireless internet access, or completely unplug and unwind with a lengthy bath in the tub before retiring to our opulent hotel room's super-comfy bed.
Explore our Standard standard room
Although a comfy bed, a fantastic shower, and clever gadgets are usual, our finest hotel room offers much more. Watch a movie or a TV show while unwinding in your room's ample space. After you've settled up, start your evening at one of our restaurants. We, therefore, guarantee you that our Indigo Hotel's safety and cleanliness processes are carried out to the highest hotel standard if you want to book a hotel in Lahore. This enables you to enjoy the same relaxed trip you remember while also have added peace of mind.
Our hotel's standard room is opulent and reasonably priced. The Deluxe rooms feature a bathtub, Rain shower, work desk, safety locker, tea/coffee-making amenities, a minibar, and a smart TV. They are furnished with modern design elements.
The room also has the following extras:
Conditional air
rain shower and a bathroom
luxurious bathroom products
a direct dial number
Amenities
Air conditioner
Bathtub
Direct-dial Phone
Hair Dryer
High-speed WiFi
Locker
Setup for Coffee & Tea
Smart TV
Towels and Toilet Accessories
Weight Machine
Work Desk
House Rules
Check-In
The check-in time is 2:00 PM
Early check-in depends upon the availability
The minimum age
Check-out
The check-out time is 12:00 PM
Special check-in guidelines
An email is sent to guests who check in online, and the front desk staff will welcome them when they arrive. Please get in touch with our customer support team if you want further details and information about the luxury hotel room reservation confirmation.
Pets
Pets are not permitted.
Children & Extra Bedding
Infants and additional bedding Younger guests (7 and under) are welcome to stay for free!
Other Room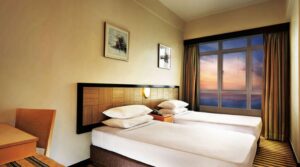 170000